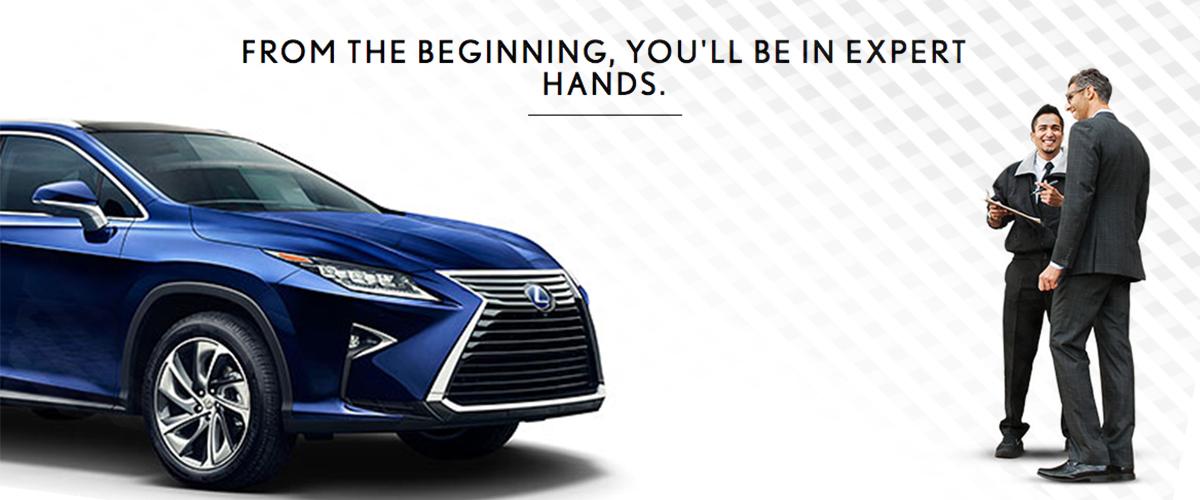 At Plaza Lexus, service is more than just taking care of your vehicle. It's making sure you're taken care of throughout the entire ownership experience. This keeps your Lexus running as strong as the day you purchased or leased it. Whether you're coming into the dealership for scheduled maintenance, looking for help out on the road, or in need of assistance setting up your vehicle's features-we'll make sure you're treated exceptionally well every single mile.
PLAZA LEXUS SERVICE WELCOME IN 
We also understand that a service center can be a little stressful. Our commitment to service starts the moment you arrive at the dealership. Upon your arrival, our service team will address your service needs, gather your vehicle's current information, such as mileage, conduct a detailed walk-through & visual inspection before bringing your vehicle back to the service bay. Recommendations will be made during the walk around if your advisor notices anything of concern. We encourage you to inform your service advisor of any concerns or questions you may have regarding your vehicles performance at this time, as your service advisor will be taking notes to ensure that your technician addresses these concerns while performing your service and multipoint inspection. Once the walk around is completed, your service advisor will confirm the services being completed, confirm your contact information, and lead you into the waiting area if you decide to wait during your service.. See video below to see what to expect when you bring your car in for service. 
LEXUS SERVICE | MULTI-POINT INSPECTION OVERVIEW
Once our Certified Lexus technicians go through their inspection, your advisor will consult with you in our comfortable, state-of-the-art service lounge that features free wifi connection, a television, cold beverage refreshments , and other snacks for your convenience. Your advisor will then show you a detailed, digital report of what the technician saw when inspecting your vehicle and provide recommendations based on the severity of any issue. Questions and concerns raised during the visual inspection will be addressed, with recommendations for these issues. Many of these recommendations are for safety and may or may not be encouraged on this visit. However, our Plaza Lexus team wants to make you aware of any potential future service that may be needed, even if it's not during this visit. Your advisor will help you decide whether or not to take advantage of these safety recommendations by explaining the service recommendations, answering questions, and giving a price break down for any additional costs that may be associated. View the video below for a glimpse of what occurs during the multi-point inspection review process
LEXUS SERVICE | SERVICE CONCLUSION AND WRAP UP
We provide a complementary exterior wash once your service is completed, for your convenience. It is one of the ways we are able to show our appreciation for your time and business. After your car wash your advisor will notify you that your vehicle is ready to go. At this time, a summary of services will be reviewed with you to ensure all services were completed, your questions have been addressed, and you have been informed of all safety recommendations. Your advisor will complete another visual inspection by walking around the vehicle with you one final time. At this time your advisor will discuss the next service or maintenance if applicable including scheduling specifics. We recommend that your future service appointment is scheduled at this time so that you get an appointment that best fits your schedule within our service department availability. View the video below detailing what what to expect as your vehicle is being returned to you from service.
PLAZA LEXUS SERVICE | LEXUS OWNERSHIP EXPERIENCE
Plaza Lexus has a commitment to do more than just service your vehicle. Providing detailed information on services performed, providing safety recommendations, and making sure you have as much information about the performance of your vehicle as possible, is all a part of the Lexus ownership experience. We realize that these are integral parts of a process that makes sure your Lexus is running as strong as the day it was first purchased or leased. At Plaza Lexus we are committed to making our Lexus ownership experience exceptional through all phases of ownership!
Save time at the dealership by scheduling your service ahead of time! It's easy to set an online appointment, and will only take a few minutes of your time. Simply click Schedule Service to set up your next Service Appointment at Plaza Lexus!